Avro Lancaster B Mk.I/ III with full Interior
Item Number:
BF-010
Manufacturer
BORDER MODEL
Scale:
1:32
Border now finish what Wingnut Wings starts years before:
Dimension 66cm x 97cm (or 66cm x 28cm with outer wings removed).
Highly detailed RR Merlin XX (for B.Mk.1) or Packard V-1650-1 Merlin 28 (for B.Mk.III).
Internal canopy framing.
Dropped flaps.
Removable outboard wing sections for ease of display.
WWII era fabric covered elevators. European theatre radiators and nacelle intakes.
Optional early & late tailwheels, unweighted or weighted (with full bomb load) main wheels, H2s Radar, 500lb (UK & USA), 1000lb, 4000lb "Cookie" and SBC bombs, FN.20 or FN.120 rear turret with optional cut away perspex, early & late bomb aimer's blisters & windows.
Optional dummy engine blocks so you don't need to assemble complete engines to build model. Early DH.5/40 (needle) & late A5/138 (paddle) type propellers & spinners.
All information without guarantee, since not all final features are known. As soon as we have more information you will be published here
1:32 scale
not built / not painted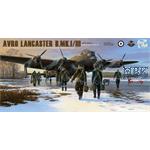 Schreiben Sie jetzt Ihre persönliche Erfahrung mit diesem Artikel und helfen Sie anderen bei deren Kaufentscheidung