Centurion Mk I - British Main Battle Tank
Item Number:
AFV35308
Manufacturer
AFV Club
Scale:
1:35
During the Second World War it became apparent that the previous British tank doctrine did not bring the hoped-for success.
This was based on the principle of two different types of tanks, slow "infantry tanks" to support infantry units and faster "cruiser tanks" to create breakthroughs and fight against other tanks.
These "cruisers" were quite agile, but too lightly armored to compete with the new generation of German tanks like the Panther or Tiger.
In 1943, the Directorate of Tank Design was commissioned to develop a new heavy cruiser tank, designated the A41, which would offer increased reliability, the ability to withstand a direct hit from the German 8.8cm gun and better protection should have against mines.
Based on the A34 "Comet" (the best British tank used in World War II), work began on the A41.
The A41 had 76 mm of front armor, which was thinner than that of the then current Churchill MK infantry tanks. VII and VIII with 10mm and 152mm respectively.
However, the glacis plate was steeply sloped, and therefore the effective thickness of the armor was very high - a design feature the new tank shared with the German "Panther" and the Soviet T-34.
The turret was well armored at 152 mm. The A41 was also very mobile, easily outperforming the Comet in most comparative tests.
During "Operation Sentry" in the spring of 1945, prototypes of the new A41 "Centurion" were to be tested by the troops on active duty in Germany at the front.
However, World War II ended before the tanks arrived.
Despite this, six A41s were shipped out on May 19 to undergo two months of intensive testing by the occupying forces in Germany.
These tanks were still fitted with the 17 pounder (76.2mm) main gun and a coaxial 20mm "Polsten" cannon, but these were replaced by 7.92mm Besa machine guns in later series production.
Only about 100 Centurion Mk I were built from November 1945 at Leyland Motors Lancashire, the Royal Ordnance Factories Leeds, the Royal Arsenal and Vickers in Elswick.
The first MK. 1 tank entered regular service with the 5th Royal Tank Regiment in December 1946.
Plastic model kit of an early Centurion
New Centurion Mk.I turret
17 pounder metal gun barrel.
All hatches can be displayed open or closed
Secondary armament in ballhole
Secondary armament with two types to choose from: 20mm Polsten or 7.92mm Besa.
Centurion Mk.I side skirts.
Centurion Mk.I rear fender.
Centurion Mk.I air outlet louvers.
New storage boxes on the turret and hull sides.
1:35 scale
unbuilt/ unpainted
Paint and glue are not included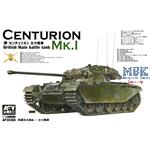 Schreiben Sie jetzt Ihre persönliche Erfahrung mit diesem Artikel und helfen Sie anderen bei deren Kaufentscheidung