Avro Lancaster B Mk. III "Dambuster" full Interior
Item Number:
BF-011
Manufacturer
BORDER MODEL
Scale:
1:32
Border now finish what Wingnut Wings starts years before:
66 cm x 97 cm (or 66 cm x 28 cm without outer wings).
Brand new clear parts and special parts for the Dambuster version
Highly detailed Packard V-1650-1 Merlin 28 engines.
Internal canopy frame.
Dropped flaps.
Removable main wings for easy presentation
Fabric-covered elevators from the time of the Second World War. Radiator and nacelle intakes from use in Europe.
Optional early and late tail wheels, unweighted or weighted (with full bomb load) main wheels, H2s radar, Dambuster bomb, FN.20 or FN.120 tail turret with perspex for cutaway view, early and late bombardier windows.
Optional dummy engine blocks so you don't have to assemble complete engines. Early propellers and spinners type DH.5/40 (needle) and late type A5/138 (paddle).
limited to 1000pcs worldwide!
1:32 scale
not built / not painted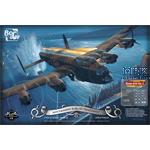 Schreiben Sie jetzt Ihre persönliche Erfahrung mit diesem Artikel und helfen Sie anderen bei deren Kaufentscheidung