U.S. MIM-23 Hawk (Homing All the Way Killer)
Item Number:
AFV35283
Manufacturer
AFV Club
Scale:
1:35
The MIM-23 HAWK ("Homing All the Way Killer") manufactured by Raytheon is an American medium-range surface-to-air missile.
It entered service with the US Army in 1959.
In 1971, as the Improved Hawk or I-Hawk, it underwent a major modernization program that included various improvements to the missile and all radar systems were replaced with newer models.
Plastic model kit with photo-etched parts
Decal options:
USMC, Gulf War 1990-91 in sandy yellow and the missiles in field green
US Army, 6th Battalion, 65th Air Defense Artillery, Florida, Oct.1962 in olive drab, missiles in white with yellow tip and wings in black
ROCAF, 621st Battalion, 608th Group, Air Defense Missile Command, in green FS34079 and missiles in RLM70 tan
Israeli Airforce in IDF Gray 1, missiles in yellow FS33531 with gray tip
1/35 scale
unbuilt / unpainted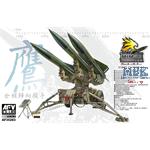 Schreiben Sie jetzt Ihre persönliche Erfahrung mit diesem Artikel und helfen Sie anderen bei deren Kaufentscheidung