The Büssing-NAG Type 4500 S heavy truck was based on its predecessor, the Büssing-NAG Type 500 S.
However, it had a few visual differences.
A 7.2 liter inline six-cylinder with 105 hp was installed.
The payload was about 4.5 tons.
It was built from the end of 1942 to 1945.
plastic model kit
with photo-etched parts
vinyl tires
Decals for:
320 Inf.Div., WH 923049, in grey
4.Pz.Div., WH 1279059, Kursk 1943 in three-color camouflage
WL 458862 in dark yellow
35 Inf.Div., WH 1566857, in grey
21.Pz.Div., WH 718931, North Africa in dark yellow
1:35 scale
unbuilt / unpainted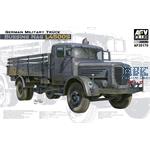 Schreiben Sie jetzt Ihre persönliche Erfahrung mit diesem Artikel und helfen Sie anderen bei deren Kaufentscheidung