M1296 Stryker Dragoon Infantry Fighting Vehicle
Item Number:
AFV35319
Manufacturer
AFV Club
Scale:
1:35
The US Army wanted to improve the firepower of the Infantry Carrier Vehicle M1126 Stryker, since the previously used 12.7mm heavy M2 machine gun is not particularly effective against modern armored vehicles. In 2015, the US Army approved an armament upgrade in which a total of 81 Stryker were fitted with 30mm unmanned turrets. This greatly increased the Stryker's firepower while maintaining its mobility. The first upgraded vehicle, designated XM1296, was delivered in 2016 for testing and evaluation purposes. The official designation is Infantry Carrier Vehicle - Dragoon or ICVD. The first operational vehicle was delivered to the US Army in 2017.
The M1296 can be loaded into the C-17 and C-5 military transport aircraft. The C-17 can carry three vehicles, while the C-5 can carry four vehicles.
Plastic model kit with photo-etched parts
Brand new MCT-30 turret with a mk.44 Bushmaster II 30mm cannon
New lateral CCD camera.
New plastic injection molded lashing straps.
photo-etched parts.
rubber tyres.
All doors can be chosen open or closed.
The cable cutter can either be folded in or out.
1:35 scale
unbuilt / unpainted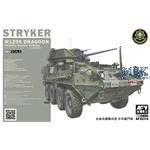 Schreiben Sie jetzt Ihre persönliche Erfahrung mit diesem Artikel und helfen Sie anderen bei deren Kaufentscheidung