In order to counter the threat posed by the numerically far superior Soviet armored forces in Central Europe, the US Army decided in the late 1960s to develop a vehicle based on the M60 main battle tank, which could also use guided missiles in addition to conventional ammunition. This should be integrated as a support vehicle in the M60A1 battalions and thus enable combating enemy armored vehicles at long distances.
What was particularly characteristic of this vehicle was the completely newly developed turret with a narrow profile. The main weapon was the 152mm cannon/launcher combination M48, which, in addition to normal ammunition, could also fire the MGM-51 Shillelagh guided missile.
A total of 526 M60A2 were built on M60A1 chassis and entered service from 1972.
Due to numerous problems with the vulnerable technology and the emerging superiority of modern conventional cannon armament, the vehicles were taken out of service again in 1983. Some of the chassis were later converted to M60 bridge-laying tanks.
plastic model kit
2 etched frets
1 vinyl gun cover
1 turned metal barrel
Decals for:
"Aces Wild" – without unit identification in MERDC Winter.
a vehicle of A Company 1-32 Armor 3rd Armored Division, based in Germany at MERDC Sommer
1:35 scale
unbuilt / unpainted
Paint and glue are not included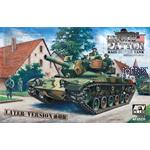 Schreiben Sie jetzt Ihre persönliche Erfahrung mit diesem Artikel und helfen Sie anderen bei deren Kaufentscheidung